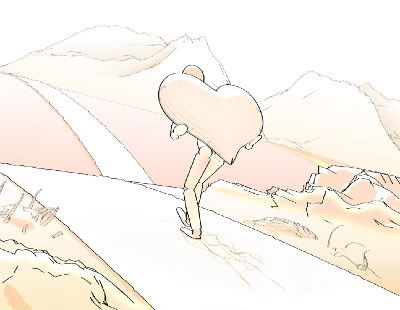 You ever notice that in a relationship of any kind, if there is something bothering one party, it weighs on them. Well, the problem is that when they tell the other person, that weight doesn't go away, it simply transfers from them to the other. It's as if the knowledge itself has mass. I think that sucks. I mean, there's nothing you can do to help it, but it still sucks.
Example: There is a boy and a girl and they are friends, but the girl is in love with the boy. This information weighs on her (trust me) but what good does it do to spill it to the boy? Especially if she's relatively sure he doesn't feel that way about her? Then
he's
just stuck dealing with it. She feels better now that she's not harboring all of these secret feelings, but he has to bear the burden of the knowledge now. So whaddya do?
Example again: There is a dating couple and one feels emotionally not okay about something in the relationship. I mean, at some point, the person has to tell the other about it. That's just what you do. But it still sucks because now the weight of the burden has shifted and while the one doing the telling feels better, sure, the receiver of information now has to feel weighted down and crappy.
Life is hard.
picture found
here
.