Ok, time for something that drives me insane:
When people post every single solitary photo taken for an event/photo session/whatever on Facebook or some other social media.
Guys. No one (except maybe you) wants to see every photo. Cull the herd and pick the best ones, and some of the worst ones (because those are funny), but for pete's sake, the rest need to stay on your hard drive or just be deleted for all eternity.
I'm a little more lenient if we're talking about candid shots at a shower or wedding or something because pictures of random people doing random things have a certain degree of entertainment value. However, I do not need to see the 6 photo progression of you picking up the piece of cake to put in your new husband's mouth. Just pick one, and whether you pick the one of you about to put it in his mouth where you look all innocent and sweet or the one where he has icing and cake bits all over his face and you look like a terror, is completely up to you.
I'm mostly talking about engagement couple photos, bridal photos, baby photos, senior picture type photos, HEADSHOTS (gah. Kill me.) and other such set-up photo session groups of pictures. If you wore 4 different shirts throughout the course of your headshot session, pick, say, 3 or 4 from each different option. I don't need to see 30 pictures of you looking awkwardly at the camera in each shirt. I appreciate the value of getting other people's opinion on which of your brand new headshots to use, but you can narrow the choices simply by
looking at them
and picking the ones that make you look not retarded.
Also: I fervently hope that when (please, Jesus God,
when
) I eventually have children, I will be lucid enough to realize that all babies look like weird grapes when they come out, and they look like weird grapes for at least some time afterward. Even though I will think that my baby is the best baby ever, I am mentally prepared to still see the grape-ness. There will need to be pictures, obviously, but for my child's sake, I will only show the inevitable alien baby pictures to friends and loved ones that will laugh
with
me at my
grape
child.
Anyrant, I like seeing people's photos of stuff. I really do. I just like seeing less of the ones that don't matter. But it does give me fodder for this blog, I suppose, so not all is lost. And don't even get me STARTED on the people who think that they're a professional photographer just because they have a nice camera. That is truly a rant for another day, as that is a subject that needs a entire entry devoted to it.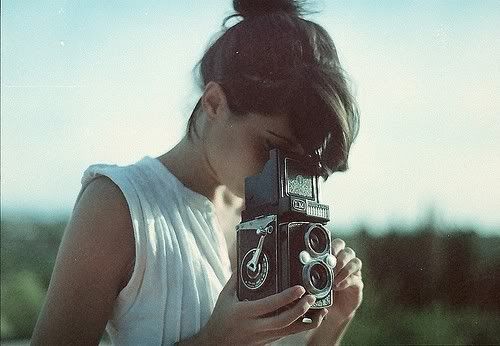 I was going to do a mosaic of photos that exemplify the qualities in this rant, but all the absolute best ones I could think of were people that are my Facebook friends, and more often than not my actual friends... so, you get a girl and a camera instead.
Pic via
PaperTissue